The filter combines the capabilities of a full-fledged under-counter system with the shape and portability of a jug. Just press START and enjoy clean, safe and tasty water right from the tap anywhere in the world.

The synergy of AQUAPHOR original technologies results in an outstanding efficiency of the mobile device. Purification is ensured by both sorption and microfiltration. Instead of granular carbon used in regular filter jugs, J.SHMIDT 500 uses an activated composite mixture with AQUALEN™ — the patented ion-exchange microfiber. Hollow fiber membrane ensures fine filtration up to 0.1 microns. It cuts off bacteria, parasites and cysts resistant to chlorine.

You can take J.SHMIDT 500 to a business trip or a car journey — basically, anywhere you go. The electronic system filters water at a speed of up to 1 liter per minute and doesn't need daily recharging. The system is shock-resistant thanks to innovative and durable plexiglass — Tritan™.

The device is charged just like a smartphone: top panel is connected to the USB port using a cable (comes in a package). A light indicator on the panel will remind you to change the cartridge in advance.
2,8
Filter jug capacity, L
J. SHMIDT 500 product suits
Healthy lifestyle habits
Balanced nutrition is the basis of recovery after exercise or stress. Is water part of it? Yes, in a more general way though - it has a greater mission of methabolism support.

Water is not a source of energy and does not provide "bricks" for building cells. Water serves as an inert environment in which chemical and physical processes take place. Water helps to deliver nutrients and remove toxins, because each of us is a mini-laboratory.

The cleaner the water is, the fewer glitches in these subtle processes occur - the smoother they go.
Allergic children and sensitive adults
Allergic children and sensitive adults
People with allergies may be affected by a whole range of pollutants in tap water. Among the allergy-causing waterborne factors are not only chlorine and other chemicals, but even pollen during the season. Seniors and those with sensitive stomachs would also prefer to eliminate even the smallest amounts of chlorine-resistant bacteria.

To tackle those special needs we use membranes that also help in various medical applications.

Hollow fiber membranes are capable of protecting drinking water from bacteria and cysts thanks to their tiny pores of 0.1 microns.

Reverse osmosis membranes give the highest possible level of water purification and will completely substitute water in plastic bottles.

All membranes will also filter out the pollen, which can trigger allergic reactions in children and adults.
Coffee, tea connoisseurs and chefs
Coffee, tea connoisseurs and chefs
For those who take culinary as art, every ingredient is a part of creation.

Rare coffee beans, exclusive teas, creative or sophisticated dishes are capricious. They require every detail to be perfect. Only highly purified water will allow to reveal the full potential of the components and help the cook to be sure in the final result every time.
Rented or temporary housing
Rented or temporary housing
Tenants looking for no-installation water filtration solutions. Here they are!

This product will help to immediately improve the quality of drinking water at any new place. It will eliminate unwanted odor and taste and make home food and drinks better no matter where you currently live.

Water pitchers do not require any installation but take some time to filter water.

Faucet filters provide deeper purification. They also have a longer lifespan, filter more water and provide clean water faster.
Chemical free bacteria protection
The J.SHMIDT 500 portable system became the first mobile filter that provides deep water purification with a 100% chemical-free antibacterial effect.

Specially designed cartridge contains hollow fiber membrane which has pores of just 0.1 microns, which is 800 times smaller than a human hair. That is why the microfiltration membrane serves as a shield against bacteria and cysts.
Modern and fast electronic device
As an electronic device, J.SHMIDT 500 is autonomous, managed by a microprocessor, and powered by a micropump. This pressurised filter provides a high speed of filtration — it is easy to have fresh water at hand. To make the water get through the microfiltration and the dense composite block, J.SHMIDT 500 launches a micropump with the help of microprocessor.
500 liters of thoroughly purified water
The J.SHMIDT 500 system has activated composite mixture with patented ion-exchange sorbent AQUALEN™ instead of granular carbon, which is used for many other filter jugs on the market.

The composite provides the same purification as an under-counter system and irreversibly traps all harmful substances, including chlorine, lead, other heavy metals, and many other toxic compounds.
Versatile protection from waterborne threats
Reduces common tap water contaminants including chlorine, organic compounds, heavy metals, rust, phenols.
Chlorine
Rust
Organic compounds
Phenols
Heavy metals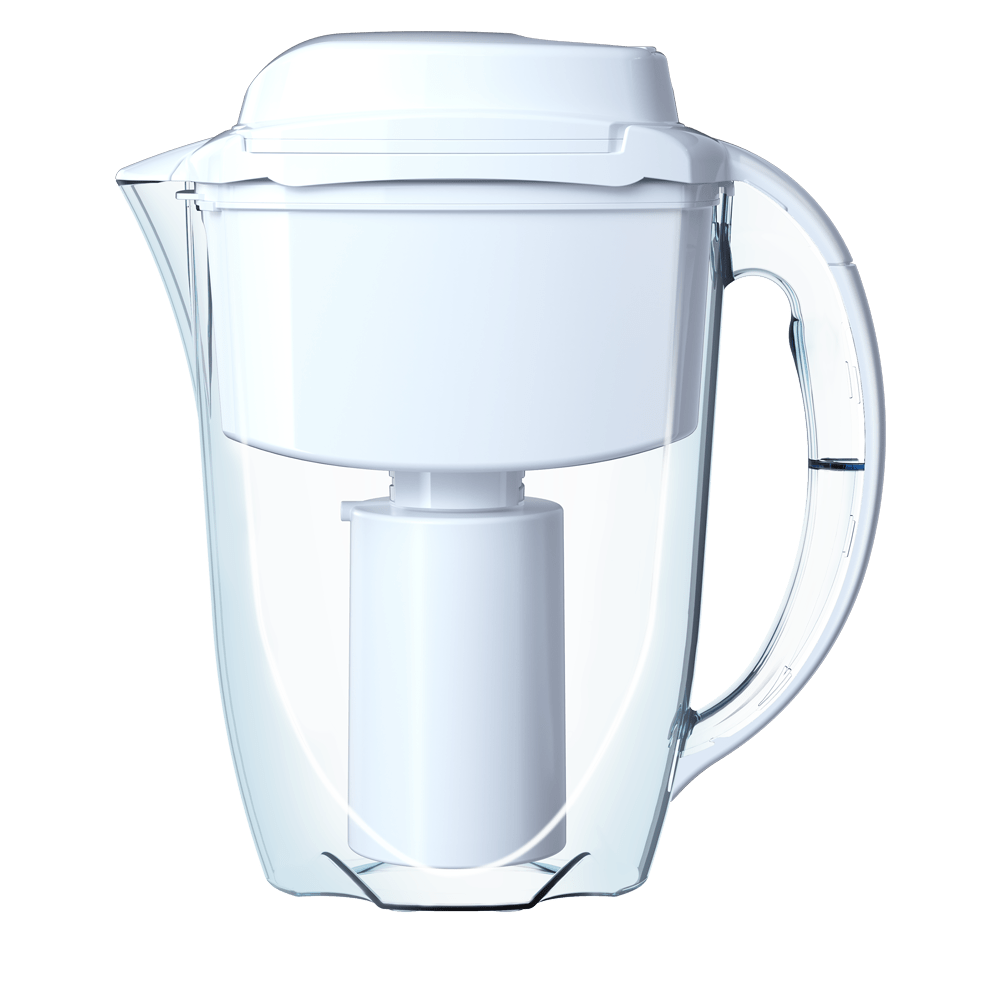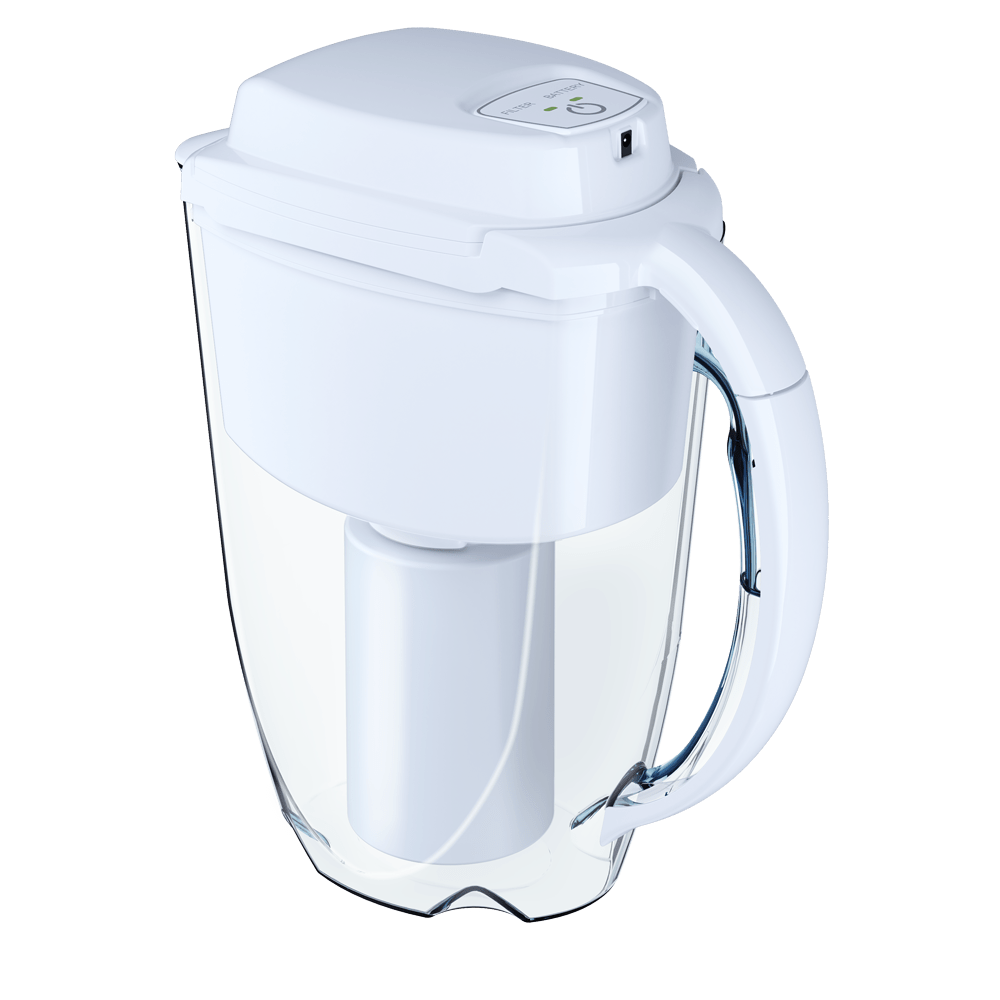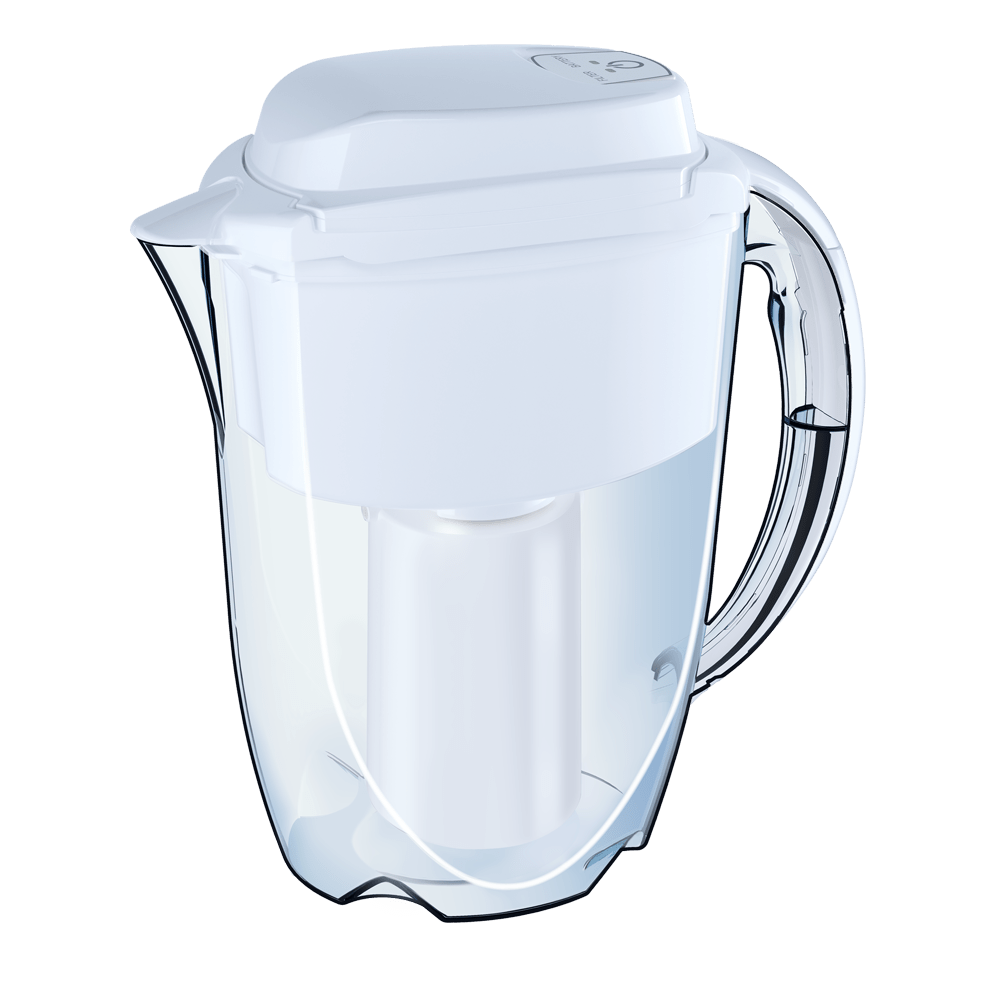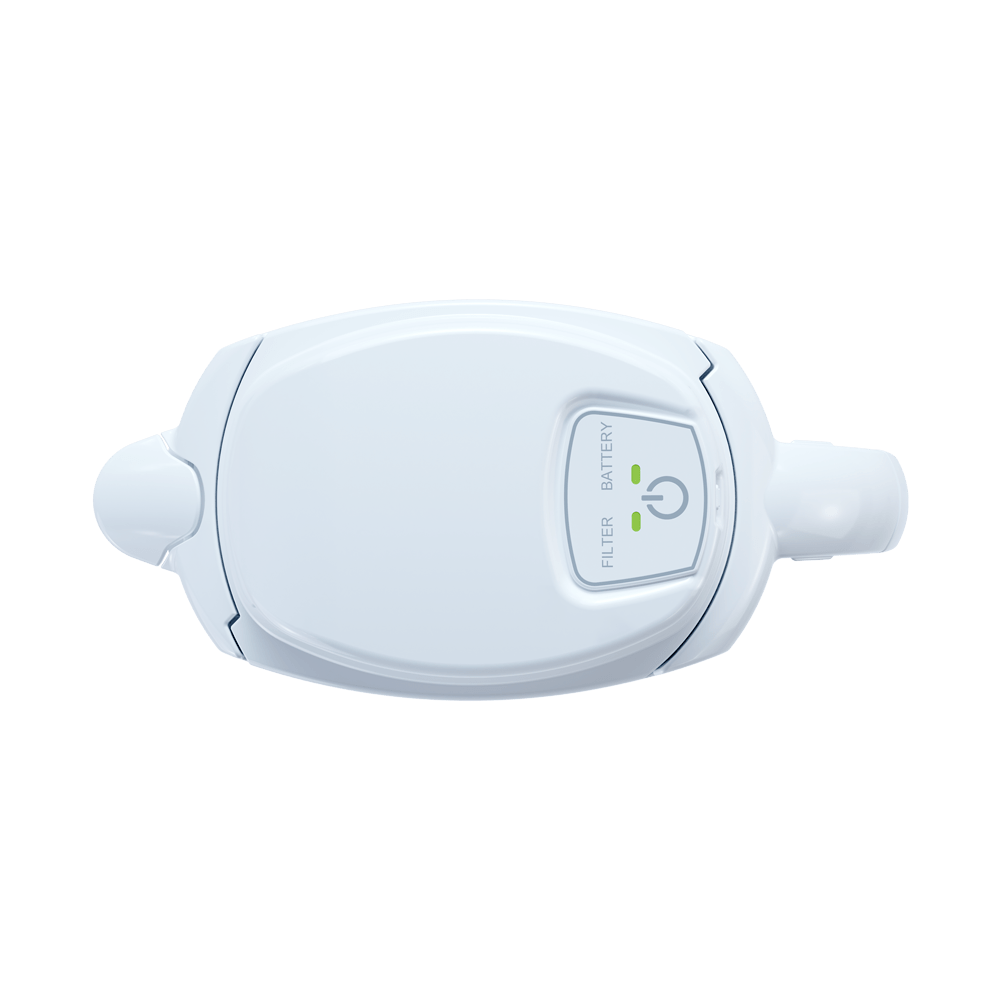 Features and equipment
Features — 9
Filter jug capacity, L

2,8

Lid type

Normal

Network connection

through USB
all specifications
---
Equipment — 3
Charging cable/USB power supply cable – connector Ø3.5 × Ø1.3 mm

1 pc

Fully assembled filtration system with a battery

1 pc

Replacement filter cartridge J.SHMIDT 500

1 pc
all components
Equipment
1

Charging cable/USB power supply cable – connector Ø3.5 × Ø1.3 mm

1 pc

2

Fully assembled filtration system with a battery

1 pc

3

Replacement filter cartridge J.SHMIDT 500

1 pc
Features
Filter jug capacity, L

2,8

Lid type

Normal

Network connection

through USB

Easy to use on the road

yes

Removes chlorine

yes

Filter life, L

500

Removes bacteria

yes

Filter life indicator

electronic

Drinking water without boiling

yes
Buy J. SHMIDT 500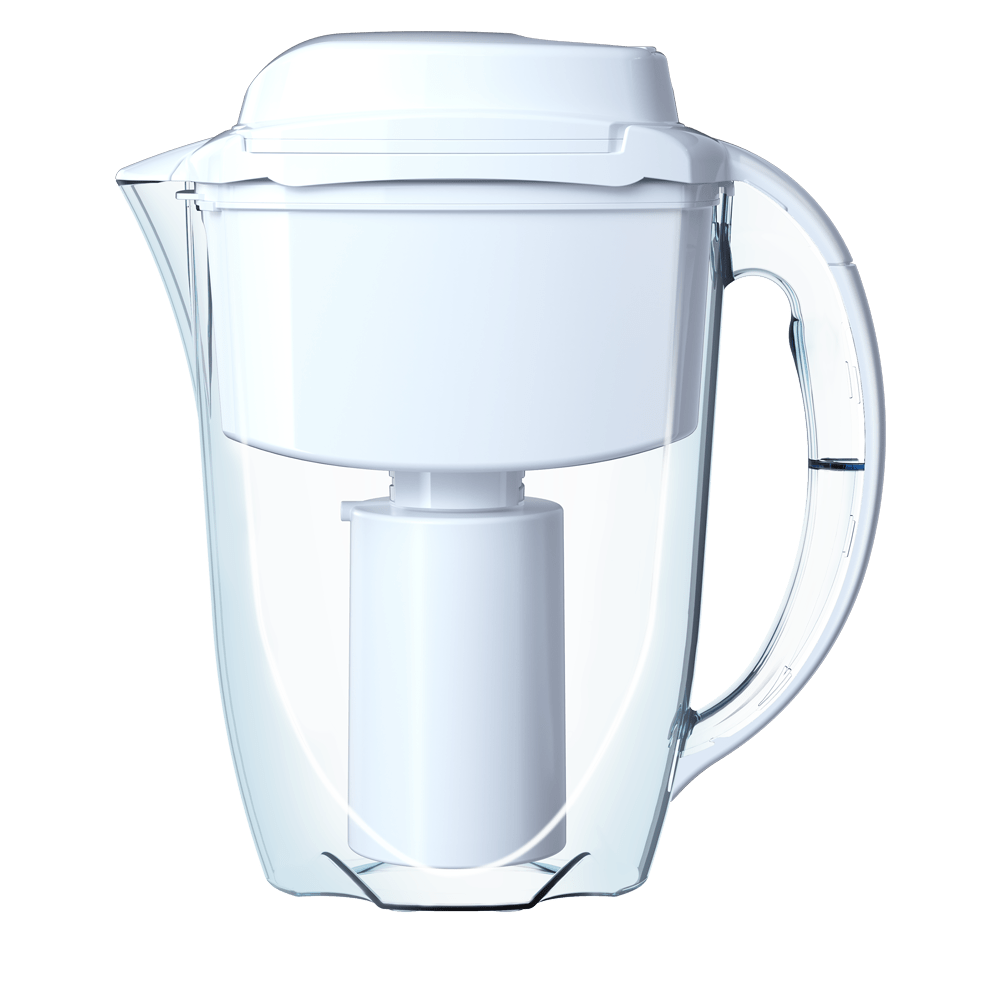 White J. SHMIDT 500
Delivery
NB! Free shipping on purchases starting from 150.00 €
Installment payment options are available in the shopping cart starting from purchases of 75 euros or more.
store addresses