Crystal is a reliable sorption filter that provides basic water purification for drinking and cooking. The system deeply purifies tap water from a wide range of dangerous contaminants: chlorine, heavy metals, pesticides, petroleum products, and other common toxins and allergens. Crystal should be used with soft water as the mineral composition of tap water remains natural.

Three CarbFiber block modules are manufactured using Aqualen™ — the patented ion-exchange fiber. Therefore the contact area of ​​water and sorbents is 42 times higher than that of granular сarbon filters, while the filtration rate is four times higher.
2.5 L/min
Filtration rate
Crystal ㅤ
A compact kitchen
This filter meets the needs of those looking for a most space-saving design of an appliance. Within its category, this solution will help you to fit within very limited space.

Some models do not require direct under-the-sink placement and can be placed in nonconventional spots, together with the whole-house pre-filters.
Cooking enthusiasts
Large amounts of clean and tasty water are needed for drinking but also when cooking a lot for the family.

Water is important when you like home made jams, flavorous soups and even proper dough for delicious pizza!

With this filter you get enough of clean drinking water for any dish. Cook with pleasure and provide a family with great food for great shared quality time.
Rational decision-makers
A great solution when installing a reverse osmosis system is not a priority. For example, if tap water is soft or you are ready to deal with regenerating a softening module when water is medium-hard water. Regeneration can be needed once in three months.
People who choose time-tested solutions
People who choose time-tested solutions
Filter system is designed for those who prefer time-tested filtration technologies. The product represents a classic filter configuration that will reliably serve for many years.

The filter is equipped with everything necessary for the thorough purification of drinking water.
Protection from hidden water threats
Three filtration stages provide purification down to 0.8 microns. The filter removes harmful substances commonly found in city tap water.

Crystal reduces chlorine and its annoying odour, filters out sediment and other visible contaminants for cleaner, clearer water. It protects from many health threatening impurities like organic compounds, pesticides, lead, and other heavy metals.
Unlimited access to fresh drinking water
Get clean water fast: 2.5 litres of freshly filtered water per minute arrive directly from the tap. So with up to 8000 litres filter set capacity, you will have plenty to keep whole family hydrated.
Durable leak-proof housing
The housing is designed to withstand massive water pressure and prevent accidental leaks. It is effortless to replace modules, yet still secure from unintentional removal.
Versatile protection from waterborne threats
Reduces common tap water contaminants including chlorine, organic compounds, heavy metals, rust, phenols.
Chlorine
Rust
Organic compounds
Phenols
Heavy metals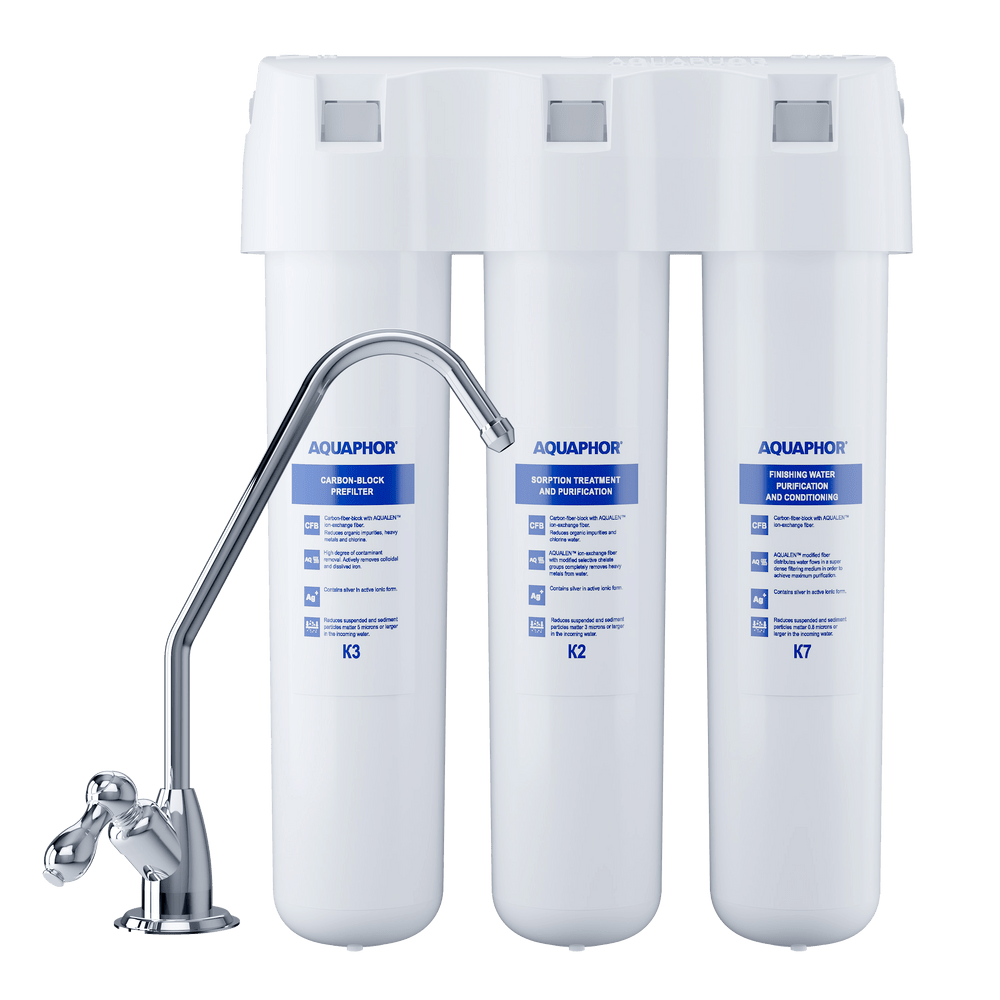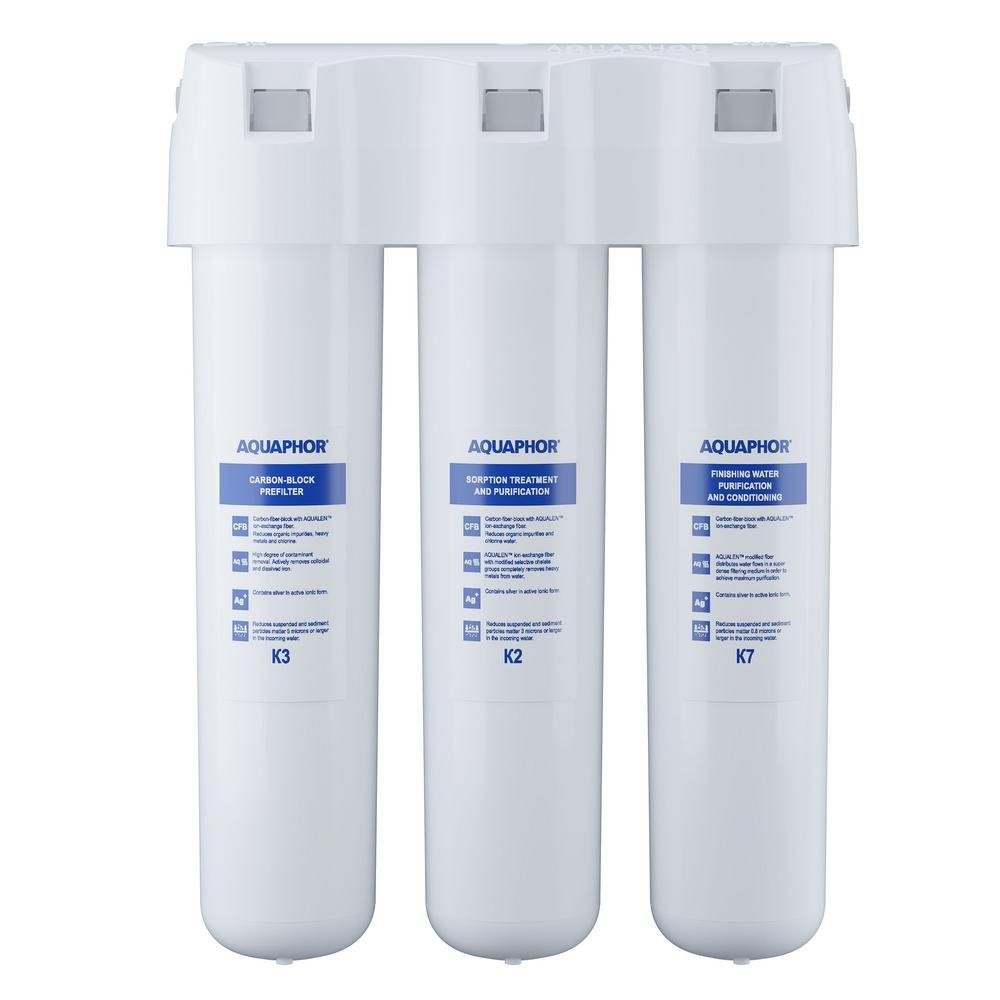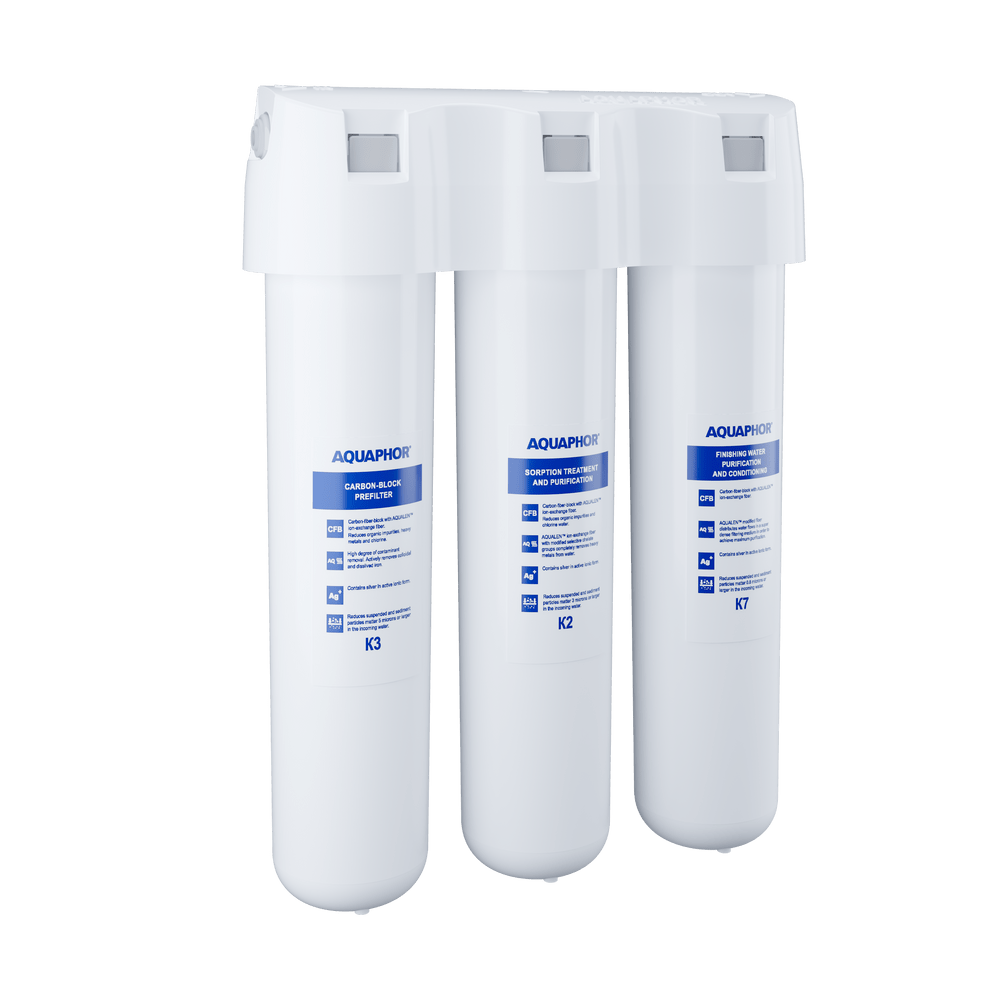 Features and equipment
Features — 8
Replacing cartridges without tools

yes

Drinking water tap

yes

Filter life, L

8 000
all specifications
---
Equipment — 10
Replacement filter cartridge K3

1 pc

Replacement filter cartridge K2

1 pc

Replacement filter cartridge K7

1 pc
all components
Equipment
1

Replacement filter cartridge K3

1 pc

2 Replacement filter cartridge K2

1 pc

3

Replacement filter cartridge K7

1 pc

4

Manifold unit assembly

1 pc

5

JG connecting tubes

1 pc

6

Connection tube with a cone sleeve insert

1 pc

7

Connection node

1 pc

8

Clean water faucet

1 pc

9

Plug

1 pc

10

Plastic key for JG tube

1 pc
Features
Replacing cartridges without tools

yes

Drinking water tap

yes

Filter life, L

8 000

Takes little place under the sink

yes

System type

sorption

Removes chlorine

yes

Replacement of filter cartridges

once a year or upon reaching the filter life limit (whichever is earlier)

Filtration rate , L/min

2.5