Intellectual and fully automatic Reverse Osmosis purifier with the innovative storage tank that provides exceptionally fast filling combined with low drain water loss. Automatically adjusts for maximum recovery of clean water. Optimizes Calcium and Magnesium concentration, depending on the initial water hardness.

Aquaphor RO-202S makes delicious and absolutely safe, soft and odorless water, no matter what the initial water quality is. Requires one-third of the space under the sink usually assigned to classic RO systems.

Additional features of Aquaphor RO-202S:
- built-in electric pressure pump allows efficient operation in case of low tap water pressure
- built-in pressure pump assures fast and even flow of clean water from the drinking water faucet
- the automatic reminder with light and sound indication helps to keep track of timely filter replacement
99.9%
Protection against viruses and bacteria
5 L
Clean water storage tank
Aquaphor RO-202S reverse osmosis system product suits
Allergic children and sensitive adults
Allergic children and sensitive adults
People with allergies may be affected by a whole range of pollutants in tap water. Among the allergy-causing waterborne factors are not only chlorine and other chemicals, but even pollen during the season. Seniors and those with sensitive stomachs would also prefer to eliminate even the smallest amounts of chlorine-resistant bacteria.

To tackle those special needs we use membranes that also help in various medical applications.

Hollow fiber membranes are capable of protecting drinking water from bacteria and cysts thanks to their tiny pores of 0.1 microns.

Reverse osmosis membranes give the highest possible level of water purification and will completely substitute water in plastic bottles.

All membranes will also filter out the pollen, which can trigger allergic reactions in children and adults.
Coffee, tea connoisseurs and chefs
Coffee, tea connoisseurs and chefs
For those who take culinary as art, every ingredient is a part of creation.

Rare coffee beans, exclusive teas, creative or sophisticated dishes are capricious. They require every detail to be perfect. Only highly purified water will allow to reveal the full potential of the components and help the cook to be sure in the final result every time.
Healthy lifestyle habits
Balanced nutrition is the basis of recovery after exercise or stress. Is water part of it? Yes, in a more general way though - it has a greater mission of methabolism support.

Water is not a source of energy and does not provide "bricks" for building cells. Water serves as an inert environment in which chemical and physical processes take place. Water helps to deliver nutrients and remove toxins, because each of us is a mini-laboratory.

The cleaner the water is, the fewer glitches in these subtle processes occur - the smoother they go.
A pefrectionist choice
Why stay with the mediocre and ordinary while there is a better option? No compromises!

The quality of life comes in many forms. One of them is a filter system that not only purifies water but also works more efficient and longer due to constant innovations.

A product that does not require attention more than a minute to change the replacement modules once a year.

A filter in which everything is thought out to the smallest detail and works at the maximum capacity of modern science.
Versatile protection from waterborne threats
Reduces common tap water contaminants including chlorine, organic compounds, heavy metals, nitrates and nitrites, bacteria and viruses, hard water minerals.
Chlorine
Hard water minerals
Bacteria and viruses
Nitrates and nitrites
Organic compounds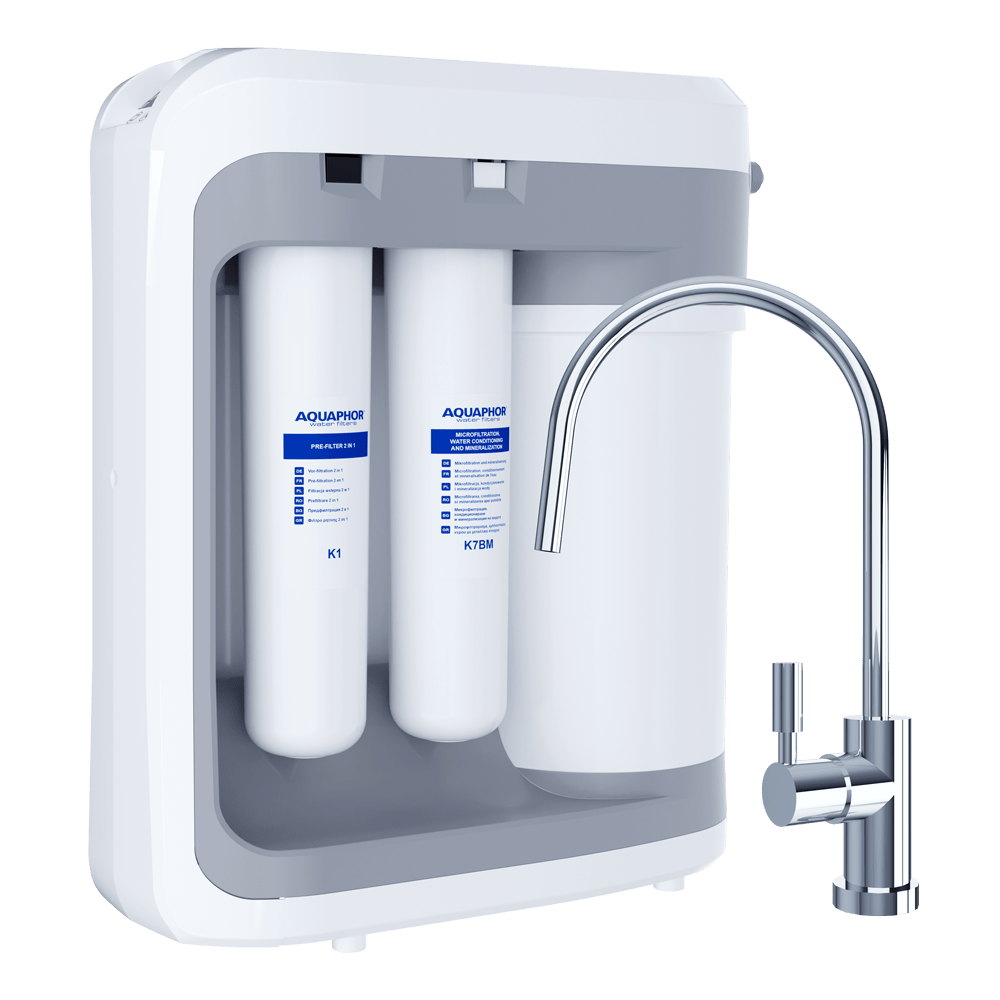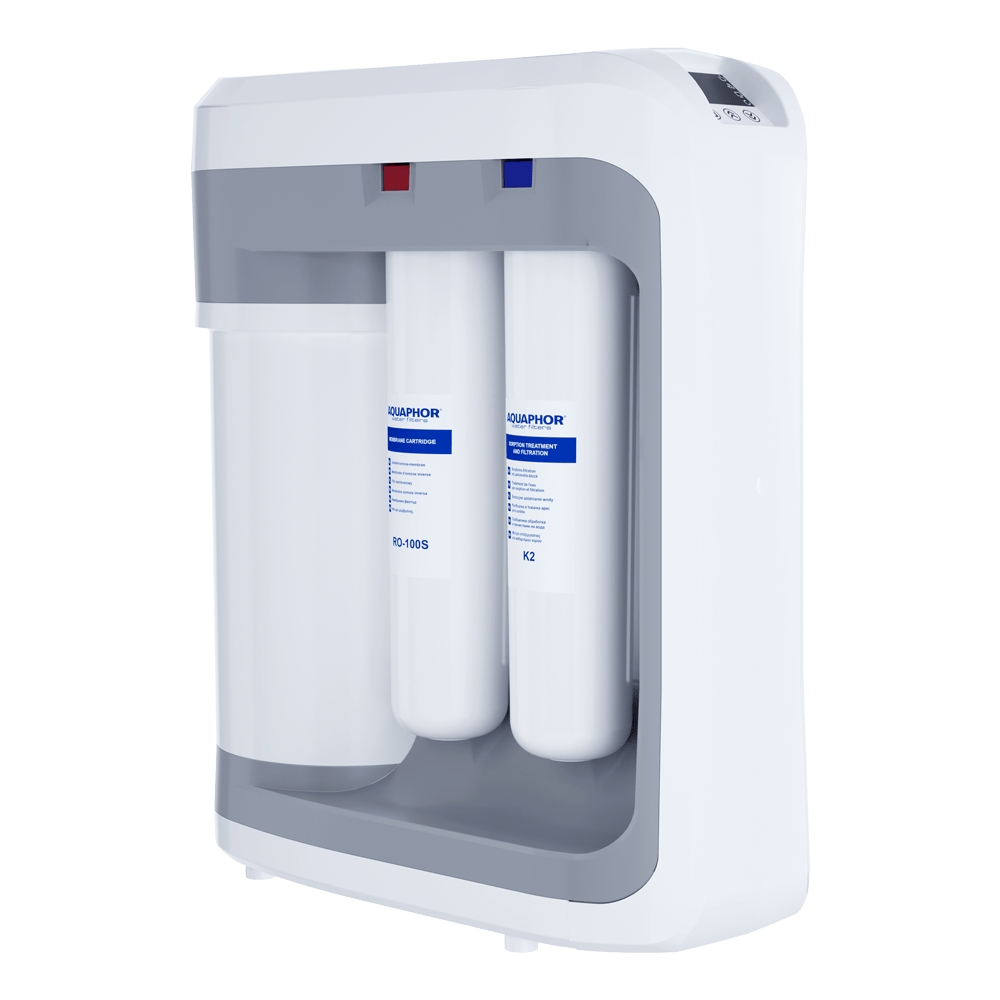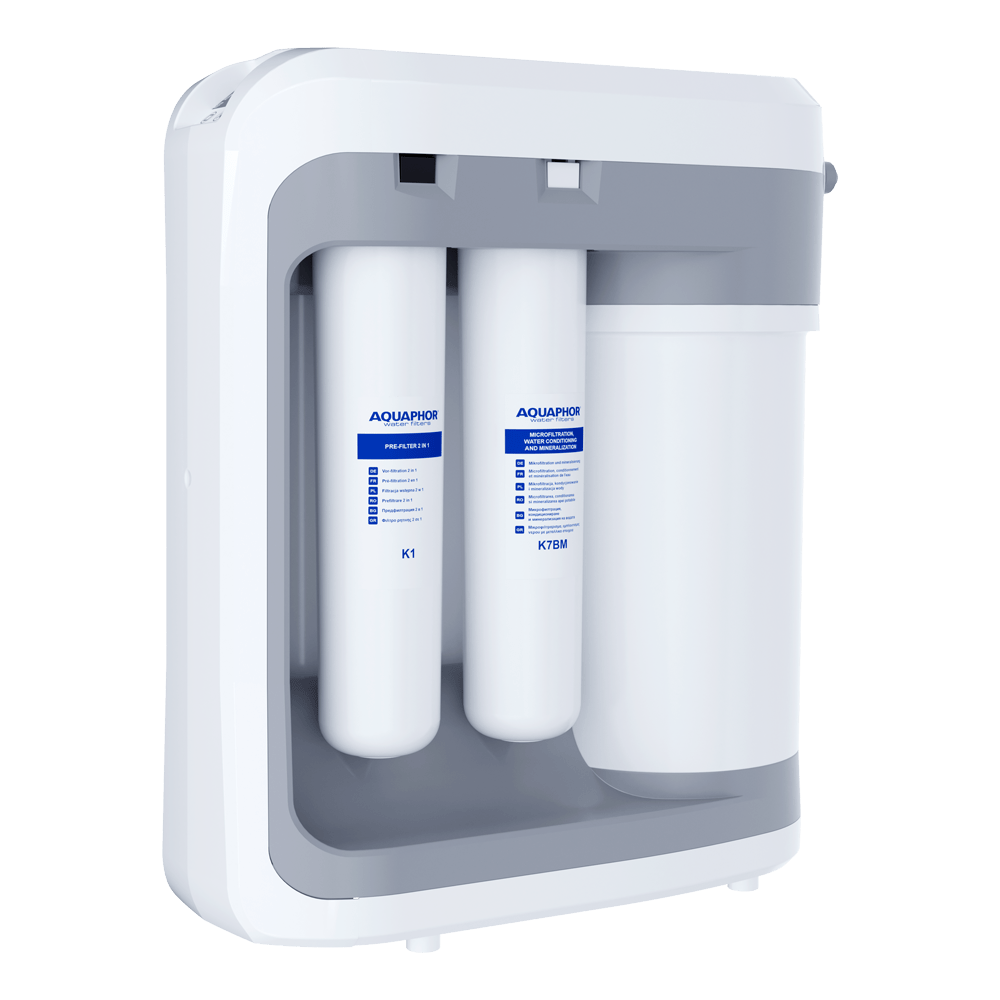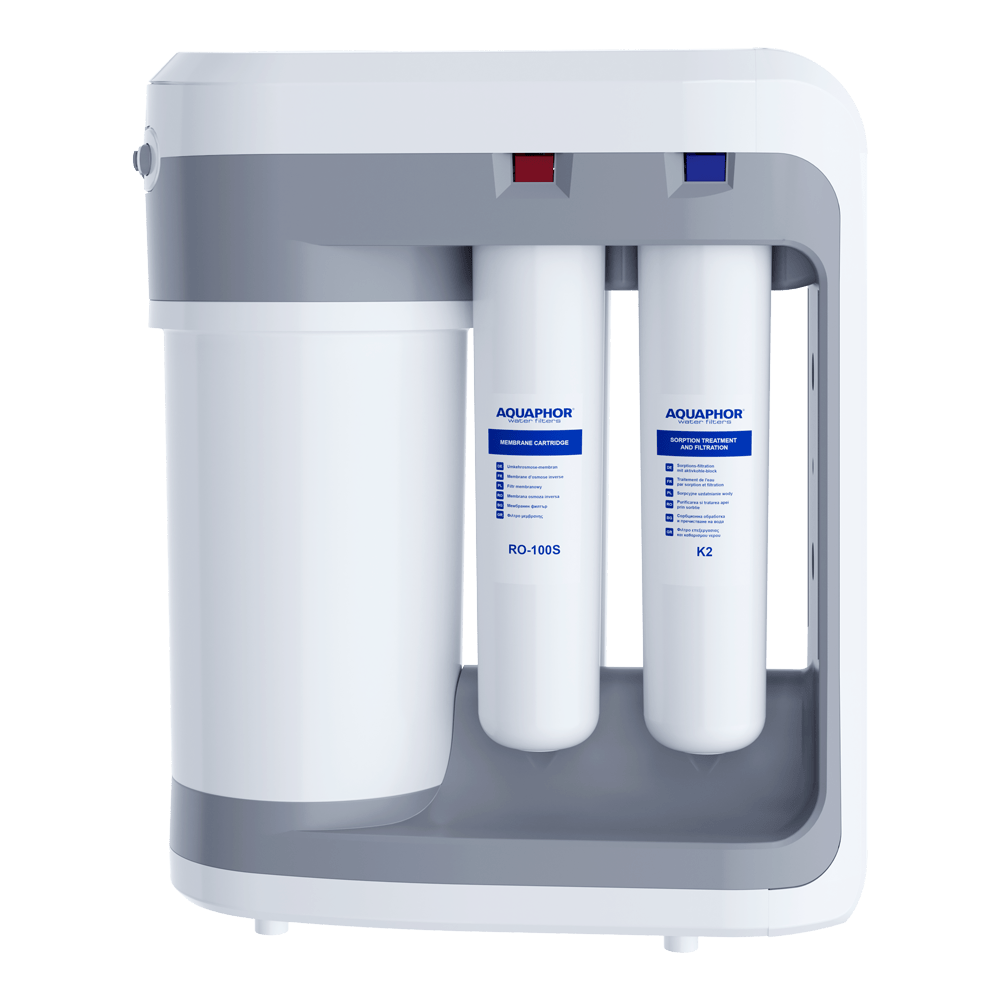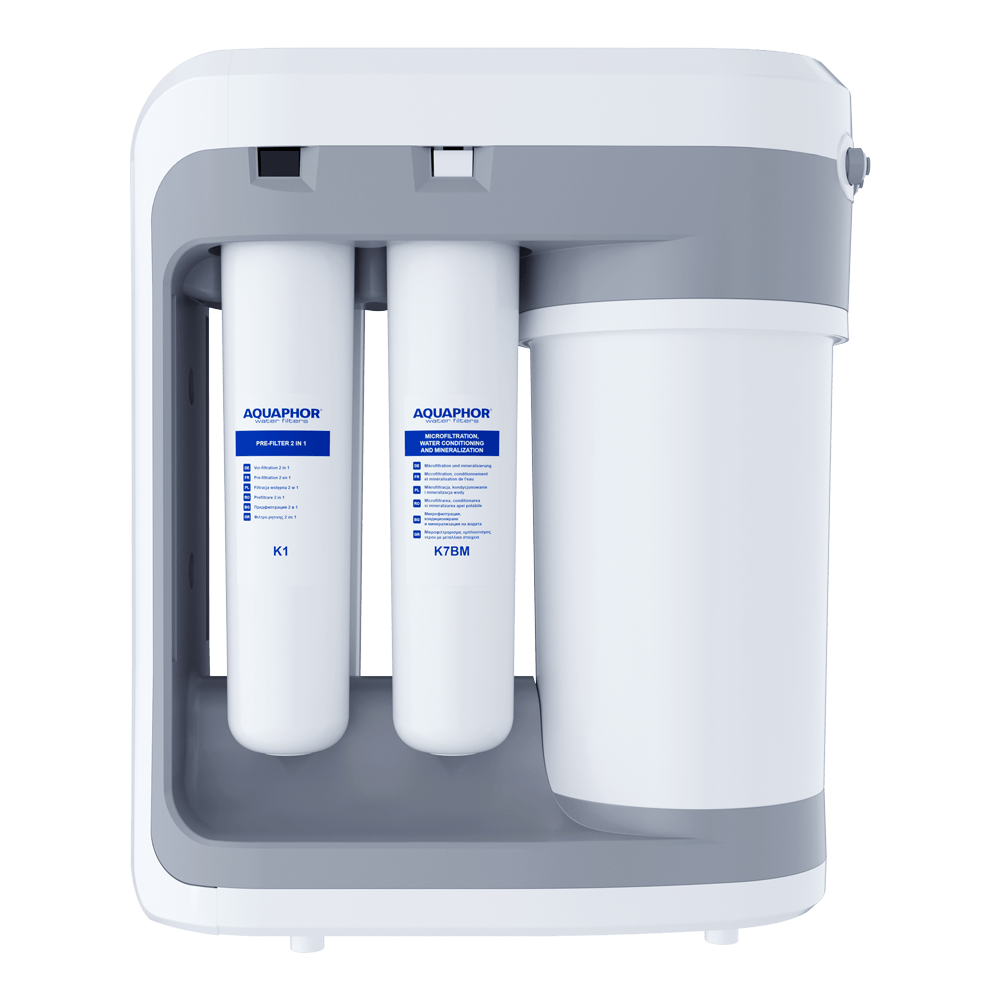 Equipment
1 Replacement filter cartridge K1

1 pc

2 Replacement filter cartridge K2 K2

1 pc

3 Replacement membrane cartridge RO-100S

1 pc

4 Replacement filter cartridge K7BM

1 pc

5

RO housing

1 pc

6

JG connecting tubes

1 pc

7

Connection node

1 pc

8

Clean water faucet

1 pc

9

Drain saddle

1 pc

10

Service cap

1 pc
Features
Water tank

integral tank

Clean water storage tank , L

5

Reverse osmosis membrane performance, GPD

100

Purified water to drainage water ratio

1:2 - 1:4

Can be connected to a coffee machine / ice maker / refrigerator

yes

Replacing cartridges without tools

yes

Reverse osmosis membrane performance, L/day

380

Removes viruses

yes

Drinking water tap

yes

Regeneration

not required

Max. pressure, MPa/bar

6,5 / 0,63

Min. pressure, MPa/bar

0,9 / 0,09

System type

reverse osmosis

Limescale prevention

no limescale deposits

Removes chlorine

yes

Mineral balancing

yes

Replacement of filter cartridges

according to the replacement scheme

Removes bacteria

yes

Drinking water without boiling

yes

Protection against viruses and bacteria

99.9%
Buy Aquaphor RO-202S reverse osmosis system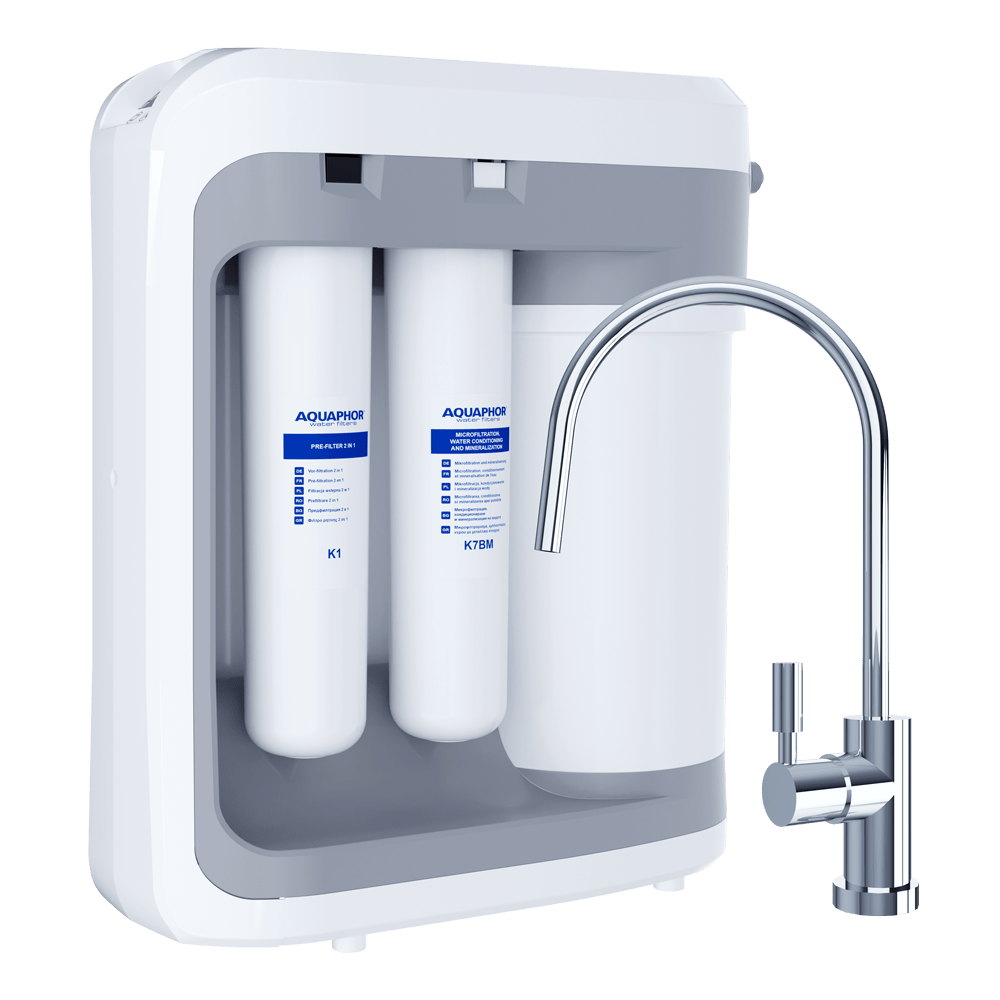 Aquaphor RO-202S reverse osmosis system
Delivery
Installation
NB! Free shipping on purchases starting from 150.00 €
Installment payment options are available in the shopping cart starting from purchases of 75 euros or more.
Installation, please fill out the form below, and we will provide you with a price quote.
store addresses
Order filter installation.