How RO-31 works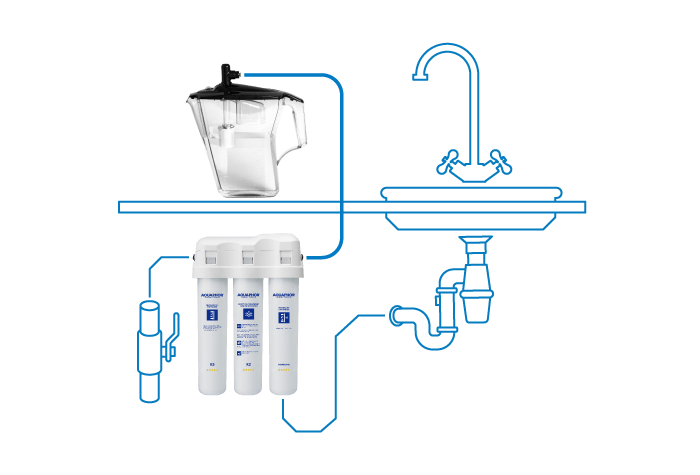 With Aquaphor RO-31 water undergoes the same treatment stages as at the water treatment plant, including the preliminary purification stage, membrane separation and final conditioning with remineralization.

No special maintenance is required between changing the filters.

The prefiltration block should be replaced every 6 months, membrane filter - every 1.5 years.

With Click&Turn technology even a child can replace filters with no risk of contacting the filtered matter.
What it filters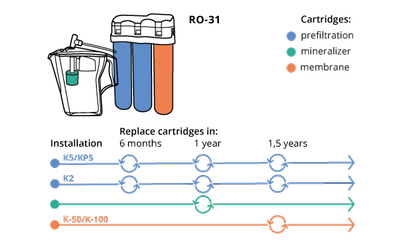 Fully removes: all possible allergens such as chlorine, pollen, sediment, heavy metals including lead, copper, mercury, arsenic, organic compounds, remains of drugs including antibiotics and hormones, pesticides, phenols, microbial and organic contamination.

Water minerals: reduces excessive water hardness, provides perfectly clean and soft drinking water with a beneficial mineral balance of Magnesium and Calcium.

*not all contaminants may be present in your water.
Tips
If you haven't used your RO 31 water purifier for more than a week, empty the storage tank and let it get filled from zero. Use freshly filtered water, long-term clean water storage is not recommended

The frequency at which the filter and membrane cartridges should be replaced depends on the quality of the water that it purifies. Contact your water treatment specialist for replacement filters.

Using a reverse osmosis system in pair with a pre-filter or whole house filter will greatly increase the life of its filters.
Technical specification:
- Tank filling time: 15-60 minutes (depending on the water temperature and salinity)
- Min operating tap pressure: 0.15 MPa (1.5 bar)
- Storage: built-in 5 L (1 gallon) water-on-water tank
- Highly efficient, built-in electric pump
- Water mineralization with Mg and Ca
- Size under sink (height × length × width): 265 × 365 × 100 mm (10.4 х 14.3 х 3.9 inches)
- Set includes: К5, К2, КO-100S, mineralizer