Reverse osmosis system with a compact collector and innovative cartridges of Pro series.
2-in-1 pretreatment cartridge Pro 1 with increased dirt-holding capacity replaces two prefiltration cartridges used in the previous generation of AQUAPHOR Osmo filter series.
Pro 50 contains RO membrane that provides ultra-fine water purification: it removes even the most dangerous impurities, including any toxic substances, bacteria and viruses.
PRO M is responsible for the final water conditioning and remineralization.

Preliminary and deep filtration of tap water protects the RO membrane, allowing for its effective operation during 1.5-2 years.

RO filtered water is a perfect eco-friendly and long-lasting alternative to bottled water. Freshly filtered, mineralized and safe water is always there for drinking, cooking, preparing baby food and filling household appliances.

AQUAPHOR Osmo Pro 50 removes scale in water heaters and ensures long life of coffee machines, kettles, multicookers, irons, steamers, etc.
99.9%
Protection against viruses and bacteria
10 L
Clean water storage tank
AQUAPHOR Osmo Pro 50 product suits
A compact kitchen
This filter meets the needs of those looking for a most space-saving design of an appliance. Within its category, this solution will help you to fit within very limited space.

Some models do not require direct under-the-sink placement and can be placed in nonconventional spots, together with the whole-house pre-filters.
Allergic children and sensitive adults
Allergic children and sensitive adults
People with allergies may be affected by a whole range of pollutants in tap water. Among the allergy-causing waterborne factors are not only chlorine and other chemicals, but even pollen during the season. Seniors and those with sensitive stomachs would also prefer to eliminate even the smallest amounts of chlorine-resistant bacteria.

To tackle those special needs we use membranes that also help in various medical applications.

Hollow fiber membranes are capable of protecting drinking water from bacteria and cysts thanks to their tiny pores of 0.1 microns.

Reverse osmosis membranes give the highest possible level of water purification and will completely substitute water in plastic bottles.

All membranes will also filter out the pollen, which can trigger allergic reactions in children and adults.
Coffee, tea connoisseurs and chefs
Coffee, tea connoisseurs and chefs
For those who take culinary as art, every ingredient is a part of creation.

Rare coffee beans, exclusive teas, creative or sophisticated dishes are capricious. They require every detail to be perfect. Only highly purified water will allow to reveal the full potential of the components and help the cook to be sure in the final result every time.
Healthy lifestyle habits
Balanced nutrition is the basis of recovery after exercise or stress. Is water part of it? Yes, in a more general way though - it has a greater mission of metabolism support.

Water is not a source of energy and does not provide "bricks" for building cells. Water serves as an inert environment in which chemical and physical processes take place. Water helps to deliver nutrients and remove toxins, because each of us is a mini-laboratory.

The cleaner the water is, the fewer glitches in these subtle processes occur - the smoother they go.
Effective softening
Clean kettle, rich taste of food and drinks — it's all thanks to the mildly mineralized water. AQUAPHOR Osmo Pro 50 helps you to get rid of limescale and white flakes in water. The system makes soft and pure water always available for preparing safe baby food, delicious tea, coffee and soup.
Mg and Ca balance
Thanks to the Pro M cartridge, your drinking water is enriched with magnesium and calcium. Thanks to that, it gains the usual pleasant taste and helps you support your health.
Easy maintenance: no tools needed
AQUAPHOR Osmo Pro 50 system is equipped with the new collector simplifying cartridge replacement. The whole process takes less than a minute and requires no tools. Don't forget to replace the pretreatment cartridge in due time, and the membrane will last for 1.5-2 years.
Versatile protection from waterborne threats
Reduces common tap water contaminants including chlorine, organic compounds, heavy metals, rust, phenols.
Chlorine
Hard water minerals
Bacteria and viruses
Nitrates and nitrites
Organic compounds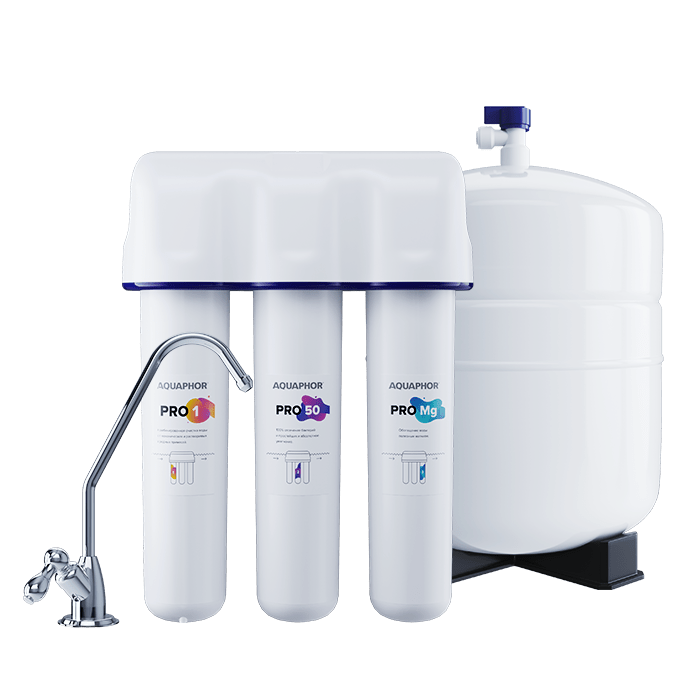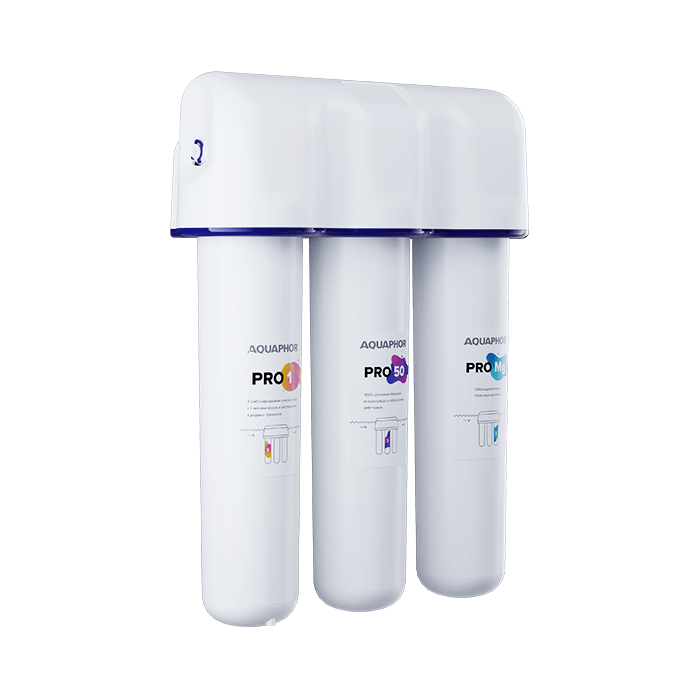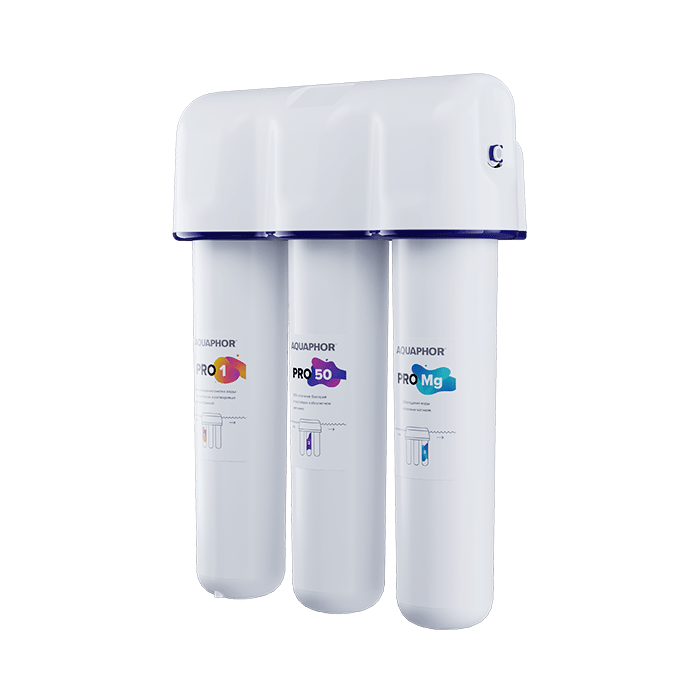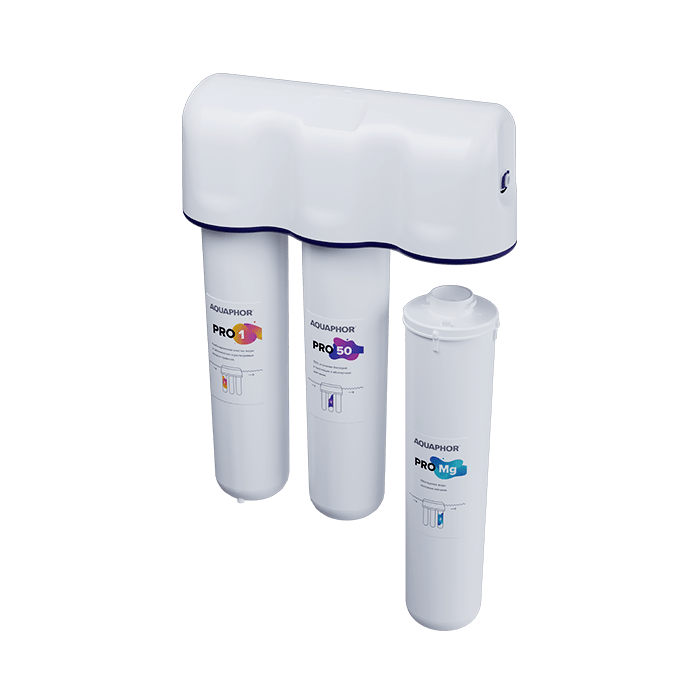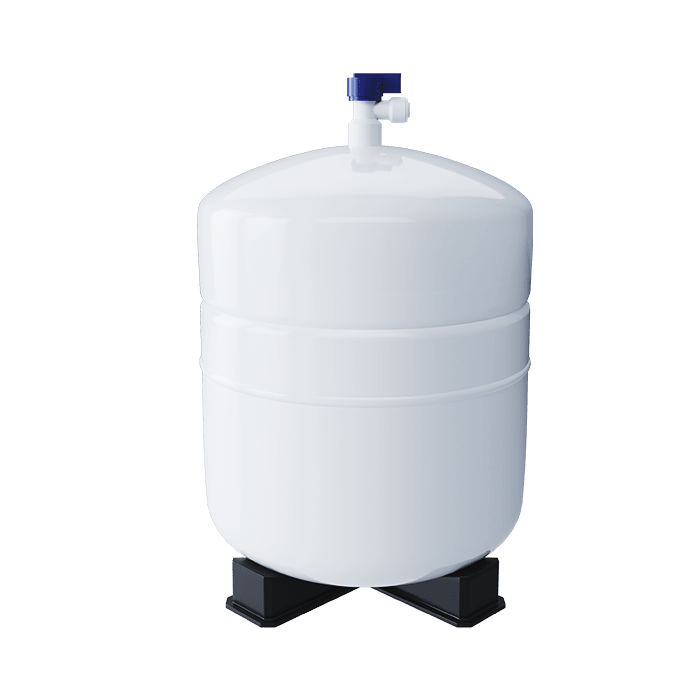 Features and equipment
Features — 18
Water tank

external tank

Clean water storage tank, L

10

Reverse osmosis membrane performance, GPD

50
all specifications
---
Equipment — 12
Replacement filter cartridge Pro 1

1 pc

Replacement membrane cartridge Pro 50

1 pc

Replacement filter cartridge Pro M

1 pc
all components
Equipment
1

Replacement filter cartridge Pro 1

1 pc

2

Replacement membrane cartridge Pro 50

1 pc

3

Replacement filter cartridge Pro M

1 pc

4

Manifold unit assembly

1 pc

5

Collection bowl for pure water

1 pc

6

Clean water faucet

1 pc

7

JG connecting tubes

1 pc

8

Connection tube with a cone sleeve insert

1 pc

9

Connection node

1 pc

10

Drain saddle

1 pc

11

Plug

1 pc

12

Plastic key for JG tube

1 pc
Features
Water tank

external tank

Clean water storage tank , L

10

Reverse osmosis membrane performance, GPD

50

Replacing cartridges without tools

yes

Reverse osmosis membrane performance, L/day

190

Removes viruses

yes

Drinking water tap

yes

Regeneration

not required

Max. pressure, MPa/bar

0,63 / 6,5

Min. pressure, MPa/bar

0,34 / 3,5

System type

reverse osmosis

Limescale prevention

no limescale deposits

Removes chlorine

yes

Mineral balancing

yes

Replacement of filter cartridges

according to the replacement scheme

Removes bacteria

yes

Drinking water without boiling

yes

Protection against viruses and bacteria

99.9%